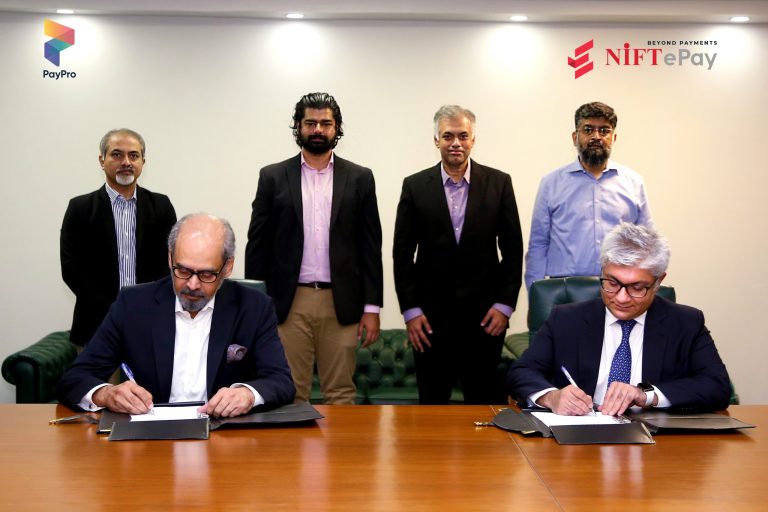 PayPro, Pakistan's fastest-growing fintech company, has entered into an agreement with National Institutional Facilitation Technologies (NIFT), one of the largest payment processors in Pakistan, for enabling digital commerce payments (Mobile/Electronic Commerce Payments) through NIFT's DFS platform under the brand name "NIFT ePay" for customers to be able to make digital payments to the partner merchants of PayPro.
Both organizations believe in the promotion of digital transactions. NIFT ePay has established an interoperable and secure digital commerce payments gateway that works with any bank account or wallet in Pakistan along with the capability to process card transactions. This provides an opportunity to the businesses being digitized to collect e-commerce payments directly through their bank accounts or wallets in addition to the existing card-based transactions.
The agreement was signed by Mr. Haider Wahab, CEO – NIFT, and by Mr. Ali Janjua, CEO – PayPro, at the NIFT head office. Also present at the signing were other senior management officials of both the companies.
Speaking on the occasion, Mr. Ali Janjua – CEO PayPro, said "This agreement will enable PayPro to further digitalize payments in Pakistan and bring next-generation payment solutions to SMEs and Corporations unlocking the potential value in Pakistan's MSMEs. PayPro is fully equipped to collaborate and support banks as their Transaction Banking partner of choice and help them in digitizing transactions for their SME and Corporate Clients".
"This collaboration with NIFT deepens our technical integration with the country's financial institutions and establishes PayPro's aspirations to become Pakistan's most innovative digital financial services company," he added.
Mr. Haider Wahab CEO – NIFT, said, "PayPro has enabled promising use cases, opening up digital payments and services with NIFT's ePayment Gateway for MSMEs. We continue with our promise to enable these innovative use cases and support growing Fintech companies due to their agility and focus on enabling payments."
"NIFT remains focused on supporting unique and innovative ideas which contribute to the digital commerce infrastructure in Pakistan. As I have repeatedly said that we believe in startups that need institutional support to implement and sustain innovative platforms," he added.