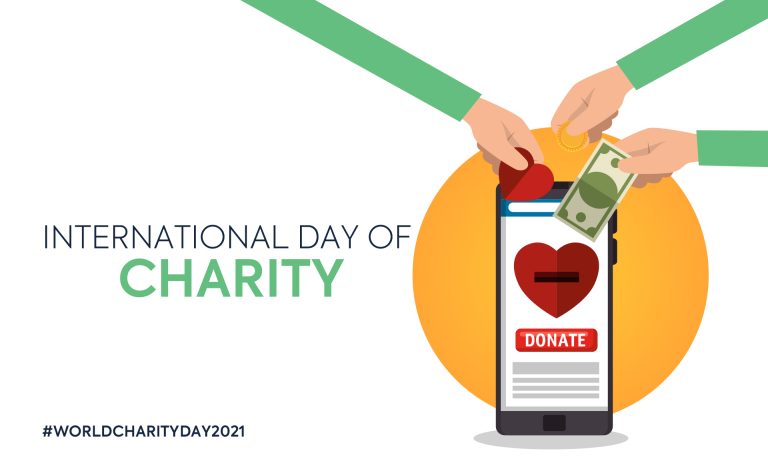 On September 5th, the world celebrates the International Day of Charity with the message of "Global Solidarity to Eradicate Poverty" (United Nations Theme). The goal of this day is to increase awareness and provide a platform for philanthropic, individual, and volunteer organizations on a global scale.
The date, 5th September, was chosen since it marks the death anniversary of Mother Teresa. Mother Teresa was untiringly dedicated to charitable work her entire life. Every year, to mark this unique day, different charity organizations collaborate across the world, and people are urged to contribute funds and time, carry on donation activities, and promote awareness of the numerous charities working to overcome poverty. Poverty is a worldwide problem and a major threat to sustainable development for society. The global poverty rate is estimated to be approximately 8.6% in 2021, and the aim is to socially equip the world to overcome poverty in some way if we start donating a portion of our money to charity.
Pakistan is one of the most generous countries when it comes to charity.
The World Bank predicted that in Pakistan, poverty would rise from 4.4% to 5.4% in 2020, with over two million people falling behind the poverty line. According to the Federal Board of Revenue (FBR), Pakistan has over 3,000 registered non-profit organizations (NPOs) and non-governmental organizations (NGOs). These organizations are continuously working towards filling the economic gaps in our society.
Another research conducted by the Pakistan Centre for Philanthropy, shows that Pakistanis donate around Rs. 240 billion to charity each year. As a third-world country, the number of people donating to good causes is enormous. It is also a well-known fact that Pakistanis are among the most charitable people on the planet. 46 percent of NGOs are concerned with education and research, 17.5 percent with civil rights and advocacy, 8.3 percent with social services, 7.3 percent with development and housing, 5.5 percent with culture and recreation, and 6.1 percent with health, while professional associations account for 3.8 percent and NGOs concerned with the environment account for only 0.2 percent.
Keep yourself safe, and help others survive this pandemic.
As COVID 19 has hit, every business is digitizing their payment channels to overcome the challenges this pandemic has created. Many people have refrained themselves from outdoor activities, especially when it comes to visiting underprivileged localities, whereas handling cash brings with it a skeptical notion for many reasons, which is why a digital payments platform has become necessary of the hour.
PayPro, Pakistan's financial technology & payments solutions provider with the largest merchant billing and financial institution network, is leading the digital payments space in Pakistan, providing convenience, reach, and ease of mind to local as well as overseas users for making cashless and secure transactions in the country.
With merchants and organizations making the best use of technology to digitize transfer of funds. Many non-profits & non-governmental organizations are providing this avenue to their supporters for transparent and secure transfer of funds while expanding their reach to a global scale. Some of the charity organizations working for numerous noble causes which have partnered with PayPro are World Wide Funds (WWF), Dar Ul Sukun Welfare Society (Donation & Zakat), Bait Ul Sukun Cancer Hospital (Donation & Zakat), Sahar For Life (Donation & Zakat), Al-Nisa Welfare Organization, Kiran Foundation, International Peace Committee For Interfaith Harmony, Care Foundation, Feed The Poors Welfare, Deaf & Dumb Welfare Society, The Good Life Foundation, Tehreek-e-Ilm Foundation, Health And Nutrition Development Society (HANDS), Indus Home Welfare Foundation, Parents Voice Association, Pakistan Children Heart Foundation, Alliance Francaise, and many more.
One of the most renowned and trusted charity partners that we've featured this International Charity Day is Dar-ul-Sukun Welfare Society, which is responsible for the care of disabled individuals from diverse backgrounds, including those who are mentally challenged, those who can not be treated or accommodated at home, those who are physically challenged, and those who have been abandoned. It's one of the several charities in Karachi that have been helping those in need for over five decades.
This International Charity Day, let's join the international community in "Global Solidarity to Eradicate Poverty". Make the most of this day today and continue to donate throughout the year by giving charity to trusted organizations making a real difference in people's lives.
Mahak Salman
Business & Marketing Associate