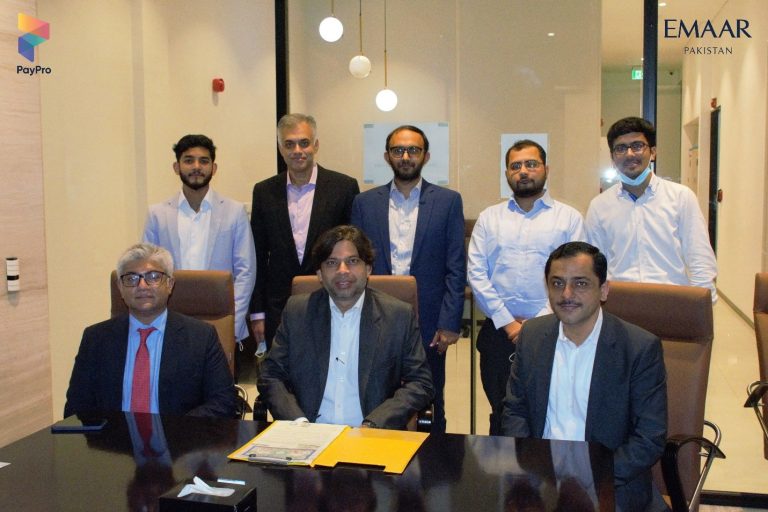 Karachi – 23rd August 2021: Emaar Pakistan and PayPro signed a partnership deal to automate collection system. Emaar Pakistan is a leader in delivery of planned communities that integrate residential & commercial amenities while PayPro is one of Pakistan's leading financial technology company enabling enterprises to manage business operations effortlessly through a digital payments system.
Expressing his view on the development, Mr. Sohail Baig, CEO Emaar Pakistan said, "Emaar Pakistan will make full use of PayPro's suite of services to transform its payment collection process and provide its customers and residents the convenience of making payments through digital mediums from the comfort of their homes, be it bank to bank transfers or through debit/credit cards." While talking about the level of convenience offered to all its customers, he further added, "Emaar Pakistan is now set to have an edge of impeccable service delivery for its most valued prospects, catering to the dire needs of both the customers local & overseas."
Mr. Ali Janjua, CEO PayPro said in a statement, "This bespoke online payment solution for Emaar Pakistan has been designed with the ease of users in mind and to allow them to enjoy global level services at their fingertips, for everyday activities. We have developed a one-window, easy-to-manage, quick solution to provide residents and estate owners an online platform for managing their ledger of installments, facility maintenance charges, and a clear view of late damages as well as provide overseas investors an avenue for making hassle-free payments."
About PayPro:
PayPro's proprietary billing solution is powered through a strategic alliance with 1LINK while the platform itself is integrated with 30+ financial institutions, including banks, digital wallets, branchless banking services and OTC collection points with a nationwide presence to ensure a seamless payment process for end consumers. Today, the company has 650+ established enterprises accepting payments through digital channels, transforming their business operations for the new normal. For more information, please visit: https://paypro.com.pk
About Emaar Pakistan:
Emaar Pakistan is a subsidiary of the Dubai-based real estate development company Emaar Properties. The company has developed residential and commercial projects in different parts of Pakistan.