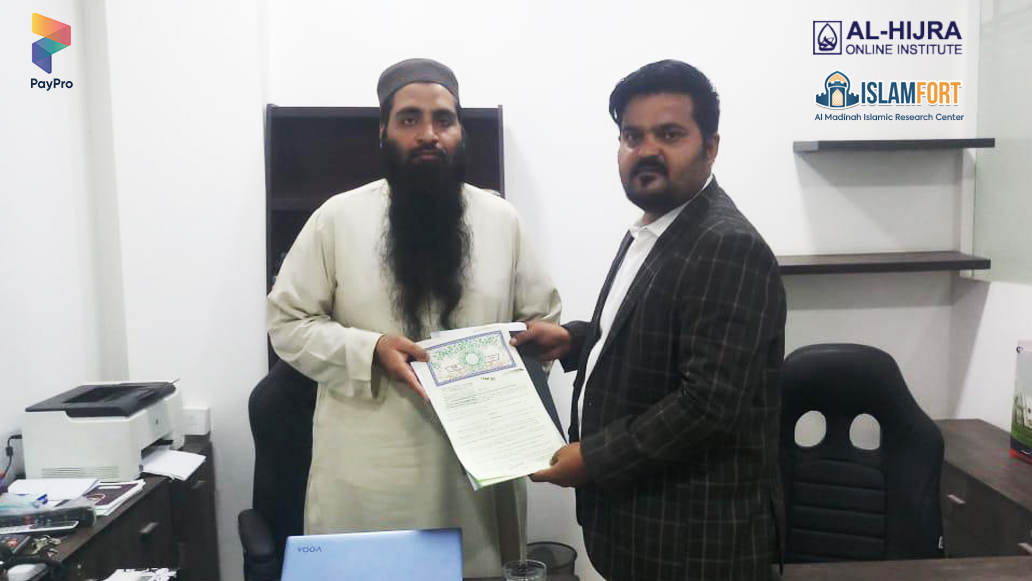 Al-Hijra Online Institute signed an agreement with PayPro Private Limited to offer online payment facilities to their customers.Customers can make their payments through Digital Bank Transfers directly from their own bank accounts as well as their Debit/Credit Cards through PayPro. Additionally, users will be able to make payments through any 1LINK ATM, or even through cash at PayPro's partner over-the-counter collection points accessible throughout Pakistan.
The initiative will facilitate to broaden business reach and better cater to specific market segments backed by valuable business insights, whereas customers will enjoy a seamless experience of performing convenient and hassle-free online transactions.
About Al Hijra Institute
Al Hijra Online institute, founded by the very well known Scholar of Islam Sheikh Abdullah Nasir Rehmani, is an online institute comprised of certified experienced faculty who is providing online Islamic education all over the world.
Al Hijra institute offers customized/ personalized certificate courses in which you can choose one or more Islamic subjects as per your interest such as Hadith, Tafseer, Fiqh, Arabic grammar and get a certificate by completing the course of your choice.
About PayPro
PayPro is a SECP registered Private Limited company which develops financial technology products with a vision to digitize the SME and informal sector in Pakistan. PayPro provides smart invoicing and subscription management services with integrated payment solutions.
PayPro's proprietary billing solution is powered through a strategic alliance with 1LINK while the platform itself is integrated with 30+ financial institutions including banks, digital wallets, branchless banking services and OTC collection points with a nationwide presence to ensure a seamless payment process for end consumers. Today, the company has 500+ established enterprises accepting payments through digital channels, transforming their business operations for the new normal.